Recommended use
General: As a dietary supplement, take 3 pills daily with 1 glass of water and with a meal. Perferably, spread out through the day (ie: 1 pill, 3x daily)
Other Ingredients: plant-derived cellulose gelatin (Vegetarian capsule), Rice Flour
Does NOT Contain Any: Artificial colors, wheat, gluten, dairy, egg, fish, peanuts.
Potential Side Effects: As with any food product, there may be infrequent and unusual highly sensitized reactions associated with this or any other nutritional supplement. If such a reaction occurs, you should consider discontinuing use of this or any product.
Warnings & Interactions: If you are taking blood pressure medication(S), are pregnant or lactating, consult your health care practitioner before using this or any new product. Keep out of reach of children.
Capsule Size:
Capsules may always be opened and the contents poured into your mouth or a liquid beverage.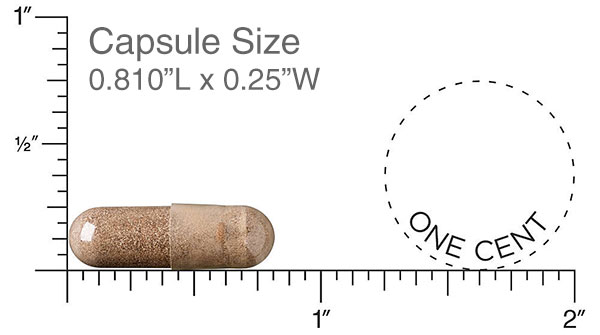 ---
MegaNatural®-BP is a registered trademark of Polyphenolics, a division of Constellation Wines US, Inc. and is produced under US patent 6,544,581
Celery3nB™ is a registered trademark of Anderson Global Group, LLC.