Recommended use
General: As a dietary supplement, take 2 pills first thing in the morning with a big glass of water (empty stomach or before eating). IF needed, you may take 1-2 more pills 4 hours afterwards. Do not take late in the day as it may cause insomnia.
Other Ingredients: plant-derived cellulose gelatin (Vegetarian capsule), Rice Flour
Does NOT Contain Any: Artificial colors, wheat, gluten, soy, dairy, egg, fish, peanuts.
Potential Side Effects: Insomnia, if taken too late in the day.
Warnings & Interactions: If you have a medical condition, are pregnant, lactating, trying to conceive, under the age of 18, or taking medications, consult your health care practitioner before using this or any new nutritional product. Keep out of reach of children.
Capsule Size:
Capsules may always be opened and the contents poured into your mouth or a liquid beverage.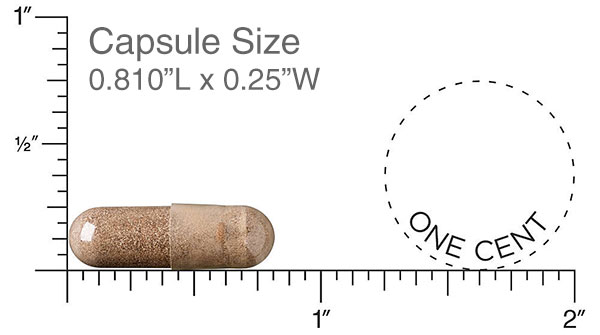 ---
BioPQQ® is a registered trademark of MGC (Japan).
Kaneka Ubiquinol® is a registered trademark of Kaneka Corporation.
Suntheanine® is a registered trademark of Taiyo International, Inc.
*** contains about 10 mgs of caffeine per ONE pill, which is roughly 5% of a cup of coffee.